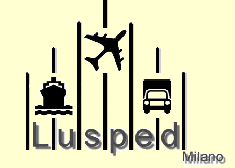 Our mission
Founded in Milan to meet the challenges of global trade, Lusped is focused on personalized services, taking care of all customer's request. Lusped qualified personnel is "around" the customer to provide full assistance, Anytime and Anywhere.
Specialized in chemicals and pharmaceuticals.
Lusped is a privately owned company.

Transportation Services
Move products efficiently across the Supply Chain. Using a vast network of transportation modes, we provide a full portfolio of transportation and global freight services to best fit your needs.
Air Freight
Premium, Standard, Economy
Ocean Freight
Premium, Standard, Groupage
Road Freight
Courier, LTL, FTL, Dedicated van, Controlled temperature dedicated van
Rail Freight
Rail, Intermodal
Transportation & Additional Services
Improve effectiveness of Supply Chain operations. Our comprehensive distribution services will increase speed, flexibility, visibility and operational efficiencies.
Special Services
Insurance, Customs Brokerage, Warehousing, Logistics Services, Consulting, Goods Packing Inspection, P.O.D. Service, Trade Management Services.